Hi everyone,

I receive this error message when i try to make a Zap for Woocommerce.

Someone have the solution at this problem?

authentication failed: Got 401 calling GET https://www.exemple.com/wp-json/wc-zapier/v1/ping, triggering auth refresh.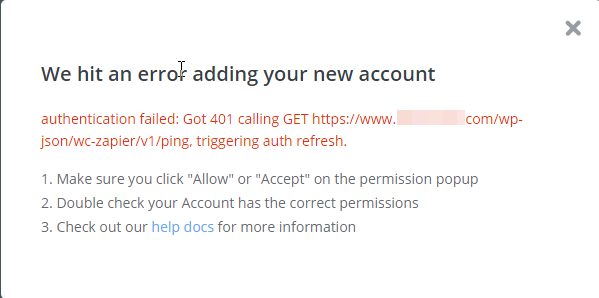 Best answer by steph.n 8 June 2020, 19:49
Hi @The Darl 
It's been a while but we wanted to check back on this issue. I saw you were able to get in touch with Cameron and Nick from Zapier Support. We think the solution mentioned would be worth sharing to the rest of the community so here it is:
Thanks for following up about this and for the additional information about what you've tried. From the steps you've followed and the explanation of what worked, I think it's the way your WooCommerce instance is hosted as well that's causing the problem. Unfortuately this isn't something we can help with : / We can't see your VPS/Server setting and it's outside the scope of our knowledge/support.

You might get a hold of the person who set up the hosting for you or the hosting company itself?
View original