Our organization uses Google Workspace for email, and we are setting up a new Google Group in order to have an email address for external support requests. 
To make it tangible, imagine we are creating the Group with the email address:
support@mydomain.com
When a new inbound email is sent to this address, I want the Zap to automatically create a Jira issue in a specific project board. In other words, I want the trigger to be a new email thread in the specified inbox in Google Groups. 
I had no issue connecting my Google Group account (I am a Workspace admin) but unfortunately I can't seem to get the trigger configuration to work. I keep getting the error message below (even after clearing browser cache, logging in again, etc.).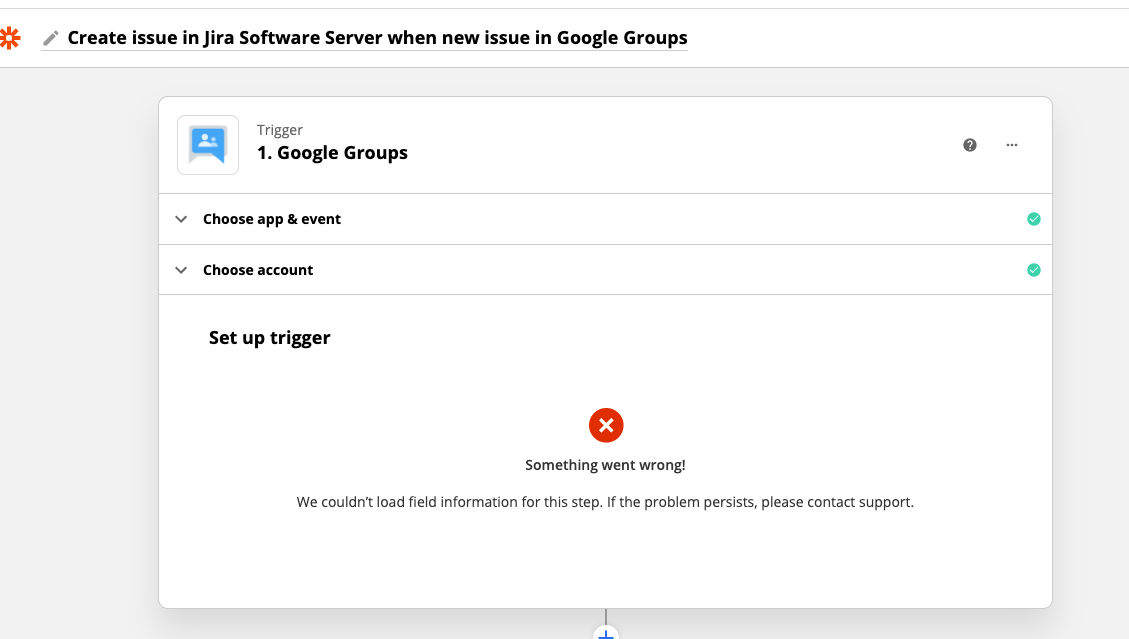 After doing a bit more research I think the issue is that Zaps cannot be triggered by an event in Google Groups; Zaps can only do some task within a Group (e.g. add a member) in response to an external trigger. Is that correct, or am I missing something?
If the above assumption is correct, does anyone have advice on how to automatically create a Jira issue in response to a new email to an address that is not my personal email account?
As a workaround I think my options are:
Use the Zapier-branded email integration (and create a new custom email address) as the trigger;
Create a specific tag for emails sent to my personal email and use that as a trigger;
Instead of using email, create a Google Form as the support ticket trigger. 
Thanks in advance for any advice!