I am connecting Zapier to Salesforce, and after a few hours or by the next day it will disconnect. This is our 1st Zapier setup. Per your help, I have made sure we only have less than 5 oAuth user's. As an example when I come in the next morning and log into Zapier, select "Test" to check the connection, it will say " Not working", and I can select the "see details" and get this picture as seen below - and I have double check to make sure all are this are done.
By the way, I have the Zap set to "Off" as I am still working on this, but haven't been able to complete it 100% because the next day it is no longer connected. Any help is appreciated, and here is the error picture: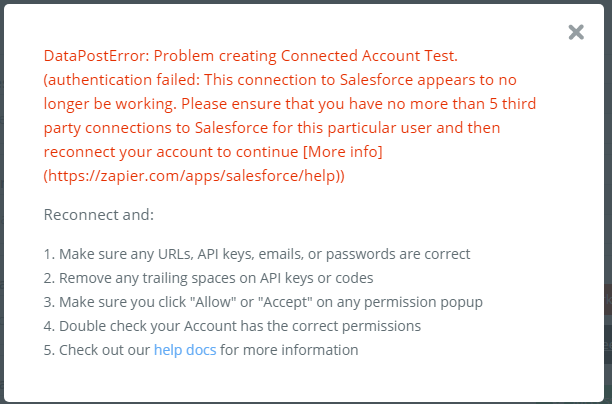 Best answer by steph.n 2 April 2020, 04:03
Hi @Mel C - Thanks for writing to us! 
I have gone ahead and alerted our team in charge of this integration, so that they can review this issue further.
While I can't provide an ETA for when this issue might be resolved, we will reach out to you via email once it is.
Thanks!
View original