I have been trying to connect click funnels and Zoom, where when there is a new contact activity in clickfunnels, it creates a new registrant in the Zoom Webinar. However, when i am trying to send data to test the zoom step the following error appears
-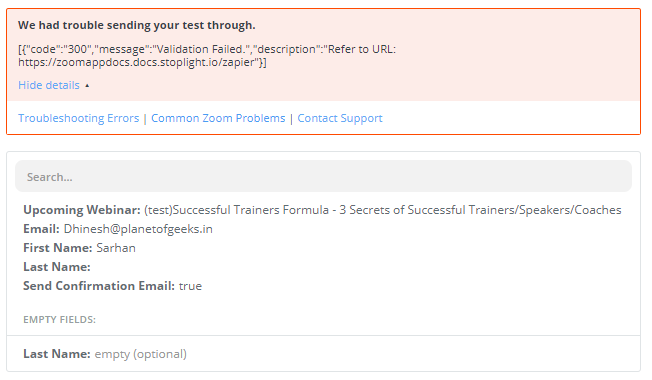 Best answer by Danvers 20 April 2020, 15:04
Hi folks!
We've had an update from Zoom on this, and there are two things that you need to do to workaround this error:
Make Last name a required field in the Zoom webinar settings AND make sure that the Last name field has a value in the Zapier editor. 
Make sure that the Country field IS NOT required in the webinar settings. 
If you're not sure how to change required webinar fields in Zoom, please take a look at this Zoom help guide.
If you're not asking registrants for a last name, or don't have a last name for them in the data that's in the Zap, you'll need to put a dummy value in the Last name field, like typing "Last name" or even an "x". 
If you can't see the Last name field in the Zap editor, first make sure that it's required in Zoom and then in the editor click the 'Refresh fields' button.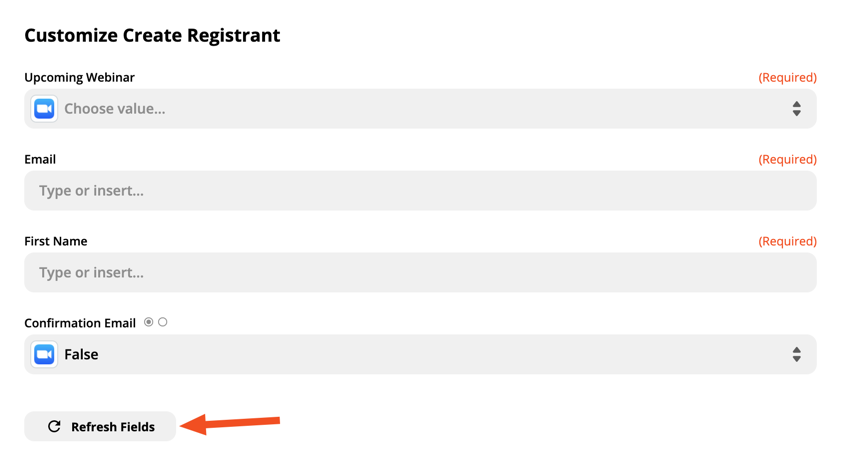 If you're still having trouble seeing the last name field or getting a 300 error after following the advice above, then the best thing to do is to contact the Support Team using the contact form: https://zapier.com/app/contact-us
I know that this isn't a perfect solution and I'm sorry about that! Zoom is continuing to work on a more permanent fix for the issue and we'll keep you updated. 
[Edited at 2020-04-21 08:53 UTC to include more info on troubleshooting]
View original