Hi there,
I'm new to Zapier, trying to set up a new zap that will send an email from my Gmail every time someone fills a form on my site. So it's a Google Form < Gmail, zap. 
But, in the set up page under 'spreadsheet' my google form won't show, even though I triggered it already (by filling it myself once) and refreshed the page. 
What do I do?
Also, under the spreadsheet box there's a Worksheet box that's also required. What's that for?
Thanks! 
Best answer by robschmidt 1 March 2021, 03:41
Hi @telalit,
Your issue is most likely that you have not created a spreadsheet to store the responses, to do that:
Go to your Google Form configuration page: https://docs.google.com/forms (click on the form that you have created) 

Click on the Spreadsheet icon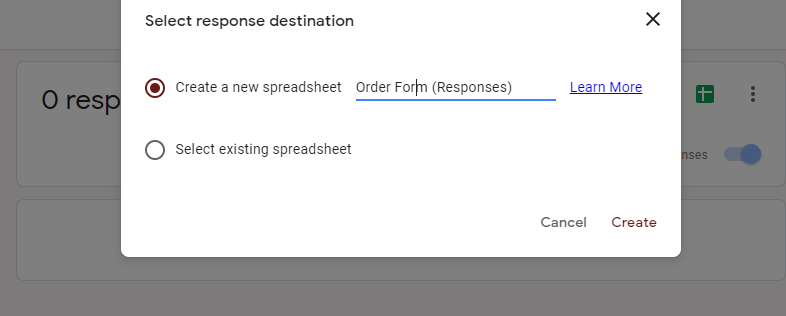 Give the spreadsheet a name that you can recognize later
Then it should appear in the Zapier Set up Page.
If it doesn't appear, then you can also add the spreadsheet ID in the Zapier Spreadsheet field

This will help you resolve the issue. 
Most importantly, make sure you have the right account connected to your zapier.
View original