I'm trying to automate creating buckets in Contactually and am getting stuck at the "customize contact" section. Here's my current Zap:
When someone signups up for a webinar using WP forms on my website, it triggers a zap to create a contact in Mailchimp in the "Webinar lead" audience. Then, when a new contact is added to "Webinar lead" in Mailchimp, that creates a new contact in Contactually and adds the tag "Webinar". It should also add the new contact to the "Webinar" bucket in Contactually. Everything works except adding the bucket to the contact in Contactually. 
Here are the steps that I have set up:
When this happens: New subscriber in Mailchimp
Do this: Create/update contact in Contactually
Do this: Add/update subscriber in Mailchimp (to add the tag « webinar » in Contactually) (Everything works to this point)
Do this: Find contact in Contactually (I think the problem is here)
Do this: Bucket contact in Contactually
In the find contact in contractually section, here is where I'm stuck. In the "customize contact" section, I'm not sure what the "search query" should be. My options are: new subscriber in Mailchimp, create/update contact in Contactually, and add/update subscriber in Mailchimp. Beneath each of these options, I have subfields to select like "name, email", etc.
Any help/advice would be greatly appreciated. 
Best answer by nicksimard 16 April 2020, 23:30
Hi Lynn,
Based on your description and the screenshot, it looks like you're super close! You've actually got one step that's not necessary. When you create or update a contact, that step will give you an ID for the contact. You can then use that directly in the Bucket Contact in Contactually step: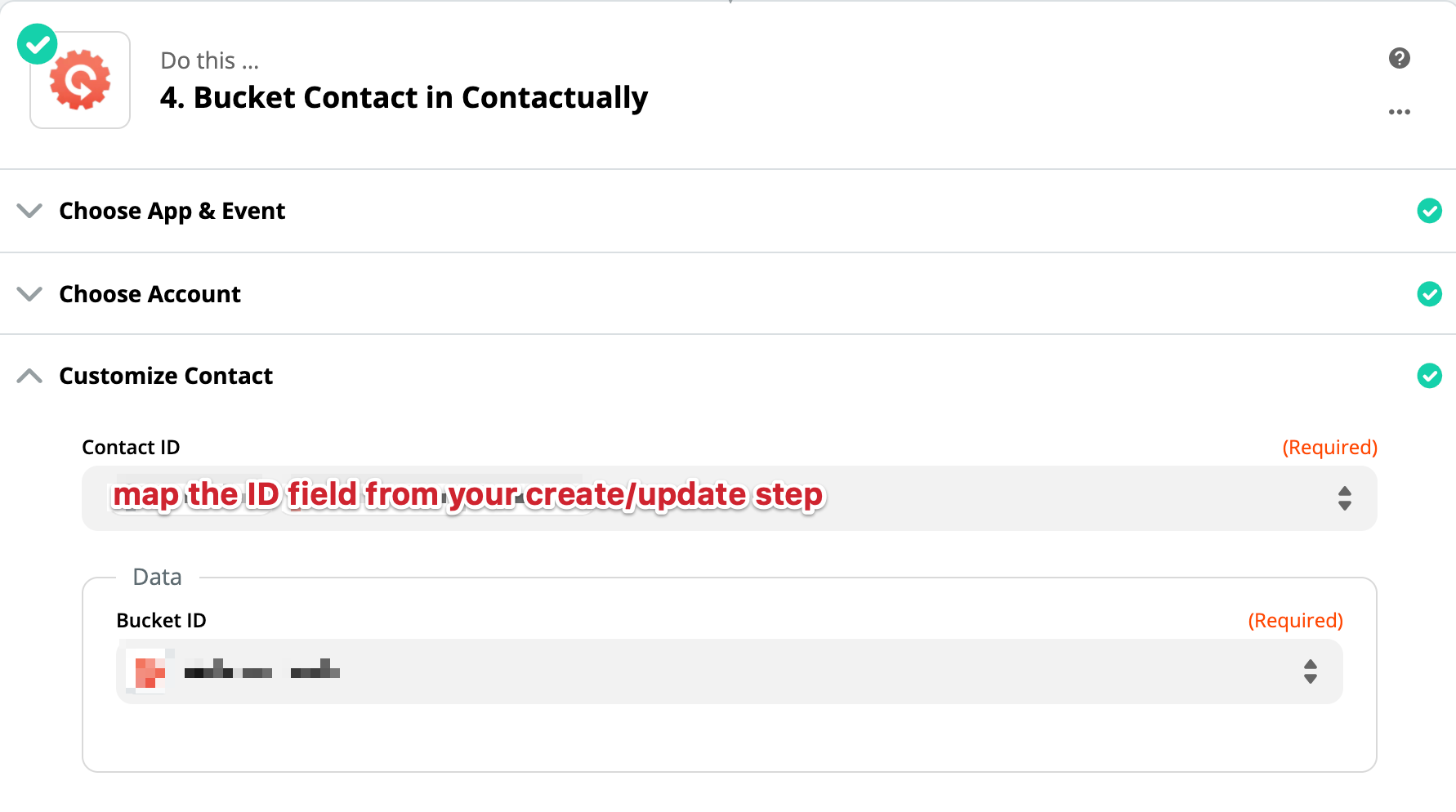 If you haven't already, can you try setting up your Zap without that search step?
View original