Hi All,
I am using Buffer for planning my social media. But i noticed some strange behaviour, you hopefully can help me with, I've looked at other posts but didn't find the same problem or solution for this error.
The buffer app has two events,
Add to buffer
Schedule to buffer
I am using Add to buffer and determine the logic of planning within buffer as it is easier to work with.
With earlier actions I've modified an image with the Placid app. Providing me and image with the following public URL:
https://s3-placid.s3.eu-central-1.amazonaws.com/production/rest-images/dqv4asrch/zap-0fceafbbf5bd6a5c6cf9420498e4a159/Burgers%20Bunkeren%20Facebook.jpg 
When using this URL in the Add to buffer I receive the following error :

(Please keep in mind that I only use the tags from Placid app)
When looking at trouble shooting the error, I do find information but not anything specific about this error.
Here the strange behaviour comes in. When using the Schedule to buffer  no issues occur… this image is send to buffer without any error.
So i though it might had to do with the Photo URL option of the Add to buffer. There I tried the original image, and no issues occur: 
https://hetbestevanlokaal.nl/wp-content/uploads/elementor/forms/63c67fa3d8438.jpg
I though it might had to do with the length of the URL, which technically does not make much sense, also because i works with the Schedule to buffer
The setup of the (modified) image with an error in Add to buffer:
The setup of the (standard) image with succes in Add to buffer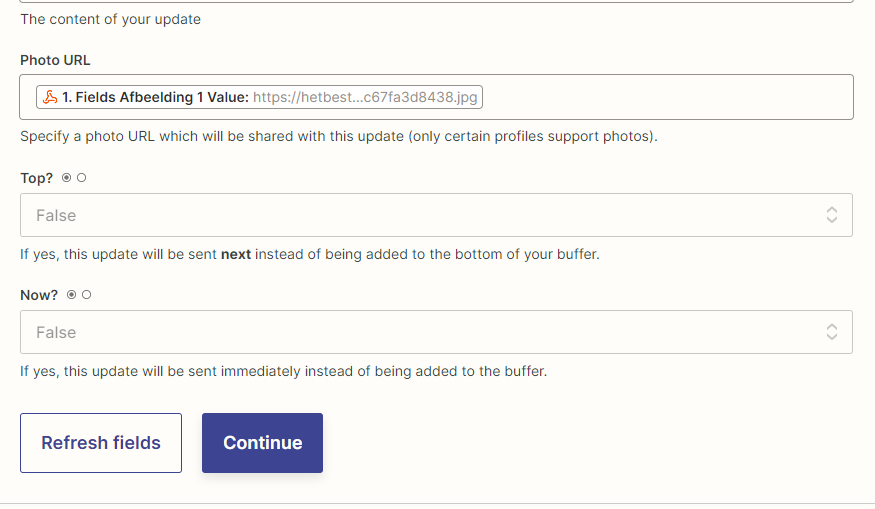 I hope someone could help me out on this, also workarounds are welcome, possible I could use Onedrive as a storage location but would like to check the options first. 
Thanks in advance!