TL;DW -- today we're soft-launching a new app on Zapier called "Approval by Zapier" which allows you to insert an Approval step in the middle of your Zap, halting each task until a human (you, or a colleague) clicks the "Approve" button in your Approval Inbox.
TL;DR -- Check out the demo video here (it's also embedded at the bottom of this post): https://youtu.be/JxcOLUuKLck
Hey folks, Bryan here, I'm one of the co-founders and CTO of Zapier. I'd like to introduce a new app / feature I've been working on at Zapier for the last few weeks called "Approval by Zapier". I hope you'll find it helpful for your business processes, and I encourage you to give it a try and provide feedback. I'll be continuing to improve it over the next couple of months. Here's a little background:
Zapier's mission is to democratize automation. We want automation to be more accessible to everyone, regardless of their technical skill or knowledge of APIs. However, it's clear that not *everything* is fully automatable. Sometimes you really need a human to render a judgement or make a decision before you continue an automation or workflow.
That's where "Approval by Zapier" comes in. With it, you can change any Zap into a semi-automated process simply by adding an Approval step anywhere in your Zap. Then, as tasks start running, you can monitor your Approval Inbox and click "Approve" when you'd like a task to continue, or "Reject" in order to halt that task.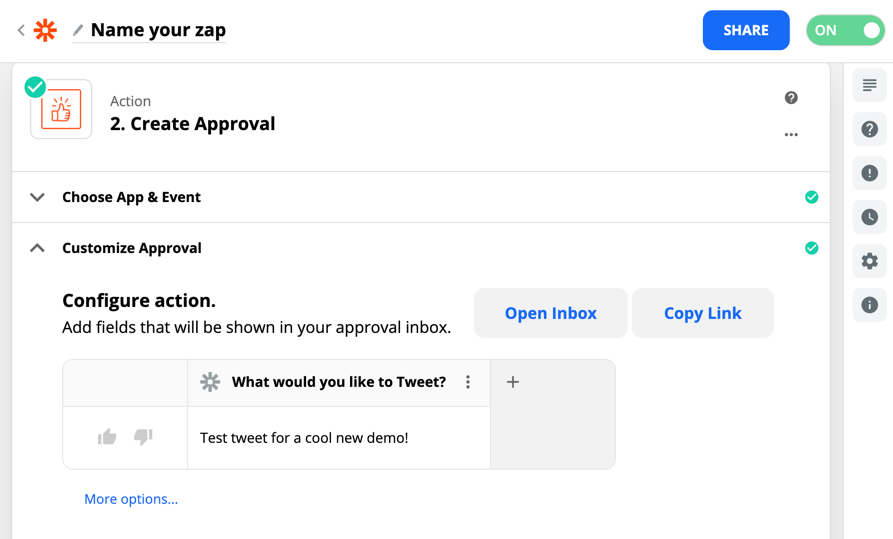 The way the Approval step works is that preceding steps will run like normal, while those after the Approval step are dependent on someone clicking "Approve" in order for them to continue. You can choose which fields you'd like to display in the Inbox, showing only those that will be most helpful in deciding whether to approve the task. The Approval Inbox (where all your tasks pending your approval will wait) is a private, but shareable link — perfect for sharing with colleagues (even if they don't have a Zapier account!).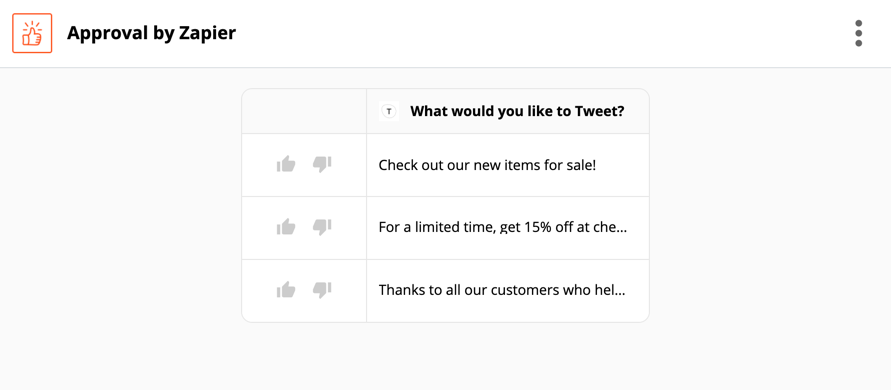 Some of the reasons you might want to use an Approval step and Approval Inbox today:
HR / IT: employees may make a purchase request, vacation request, etc. but the department needs to manually review and approve it before it can continue.

Marketing: team members may submit social media posts that are manually approved later by the marketing team before being posted publicly.

Sales: lead forms come in and need to be reviewed, perhaps only Approving the best leads after a manual review.

QA: submitted items like transcriptions are proof-read for quality before continuing.

Customer Service: customers may make requests for discounts or refunds that need to be manually reviewed by a representative before approving.

...and so much more!
Known limitations as of mid-November 2020:
Editing the data in Approval Inboxes isn't possible.

Viewing all tasks across all Approval Inboxes isn't possible, so you'll have to look at each Approval Inbox individually.

Moving Zaps with Approval steps between teams, folders, or users may cause errors.

Getting automatic alerts for pending Approvals isn't possible (though you could add an SMS, Slack, email, etc. step before the Approval step!).

Rejecting a task will only skip subsequent steps that use data from the Approval step.
At this point, we're all but guaranteeing bugs and odd behaviors on this soft-launch of Approval by Zapier, so we encourage folks to report any issues they encounter and experiment a bit before using it widely. If you have suggestions on how to make this more useful for you or your company, please share them as well!
To provide either feedback or suggestion, you can fill out the https://zapier.typeform.com/to/ejIlcZUe form.
I hope you enjoy it! -bryan