Thrivecart -> zapier issues. Ready to tear my hair out! Help please?! 🤯
Im an online course/digital product owner and I use Podia as my course platform, thrivecart as my cart platform and zapier to link the two.
I experienced a weird glitch where a zap wasn't triggering but then I duplicated the product in thrivecart and that seemed to work fine. Was odd but hoped it was a one-off. Made me think it was a thrivecart issue rather than a zap problem as the zap text was always working fine. But wasnt 100% sure which was the culprit.
But now ANY new product I create is adding people to my affiliate course even if it's not even a bump or upsell option. It's only affecting new products so, for example, I tried it on an older product and it worked fine. I duplicated that old product and the problem happened again even though settings are identical / same zap trigger etc.
Thrivecart are insisting its zapier but its tricky to have a proper conversation with them as they are 11 hours ahead in New Zealand so their working day is when I'm asleep and they keep emailing me around 4 am my time.
I've tried to join the thrivecart FB group a few times but no response. I've emailed zapier, no response yet. I'm submitting a product into a bundle offer with ultimate bundles they're ready to launch the product to affiliates only for early access but I'm still having these errors. Therefore its really urgent that I get this sorted.
A few of the affiliates seem to have been given early access and they're getting assigned to my course and having to manually remove them which is a nightmare and doesn't look good!
Can anyone see why this might be happening?
Ive narrowed it down to this zap (as the problems resolved when I temporarily turned it off) though I don't know if the error is with thrivecart or zapier. I think the setting all look right? Its the same set up Ive used with other products which works just fine.
Any ideas or suggestions? I really need to try and get this solved today as time is of the essence 
This is the zap trigger settings which is being triggered by other products such as my lead magnet templates which has nothinbg to do with the affiliate superstars course.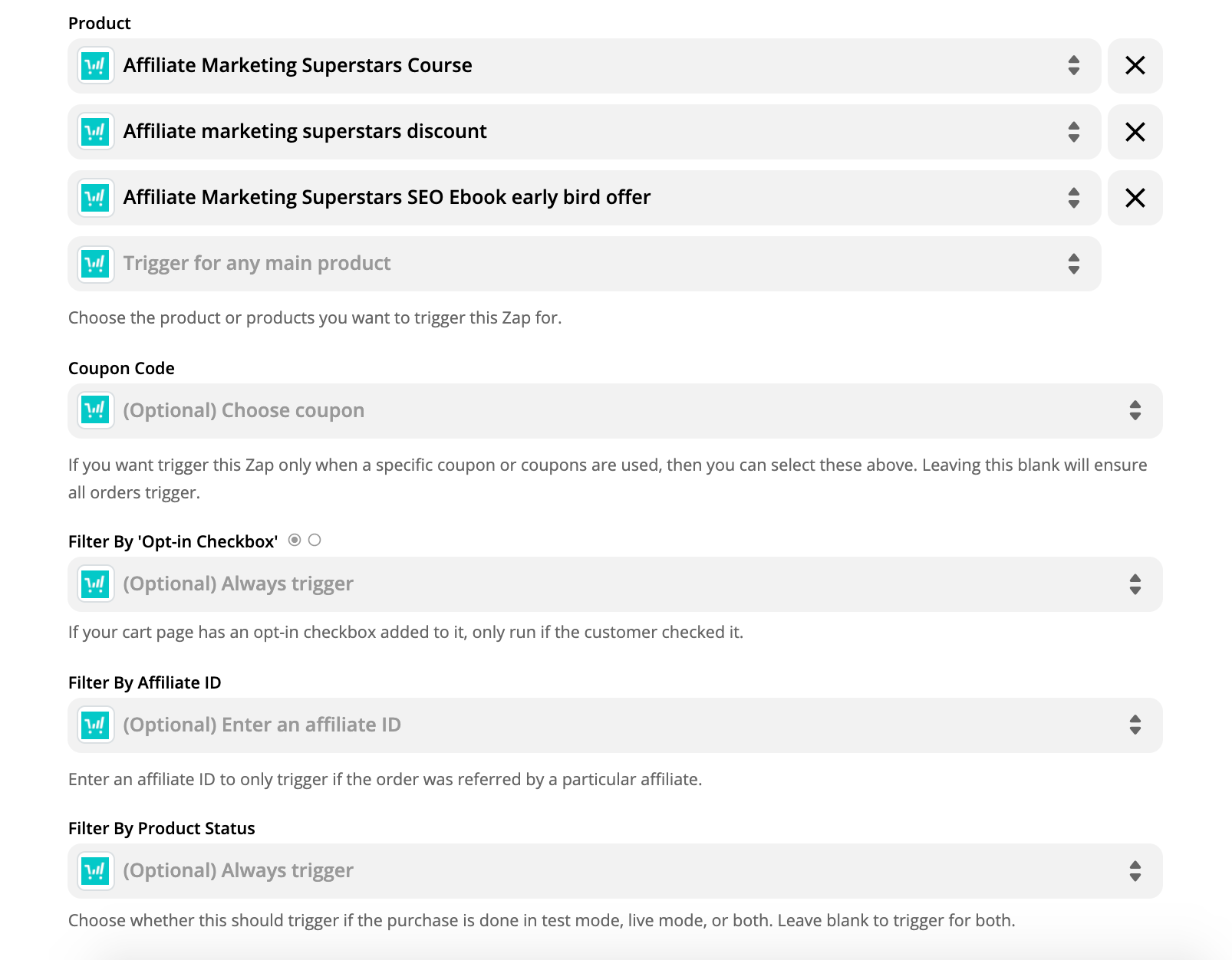 And this is the actions for those triggers: