Is "Extract data" enough to send a survey and collect data, or do I need a plan that has "Get direct API access"?

The docs say I just need any annual plan, but the pricing details pages:
https://www.surveymonkey.com/pricing/teams/details/?ut_source=pricing-indv-details &
https://www.surveymonkey.com/pricing/individual/details/?ut_source=pricing-teams-details

... also say that the Standard Monthly Personal Plan is capable of sending surveys via Partner integrations & APIs: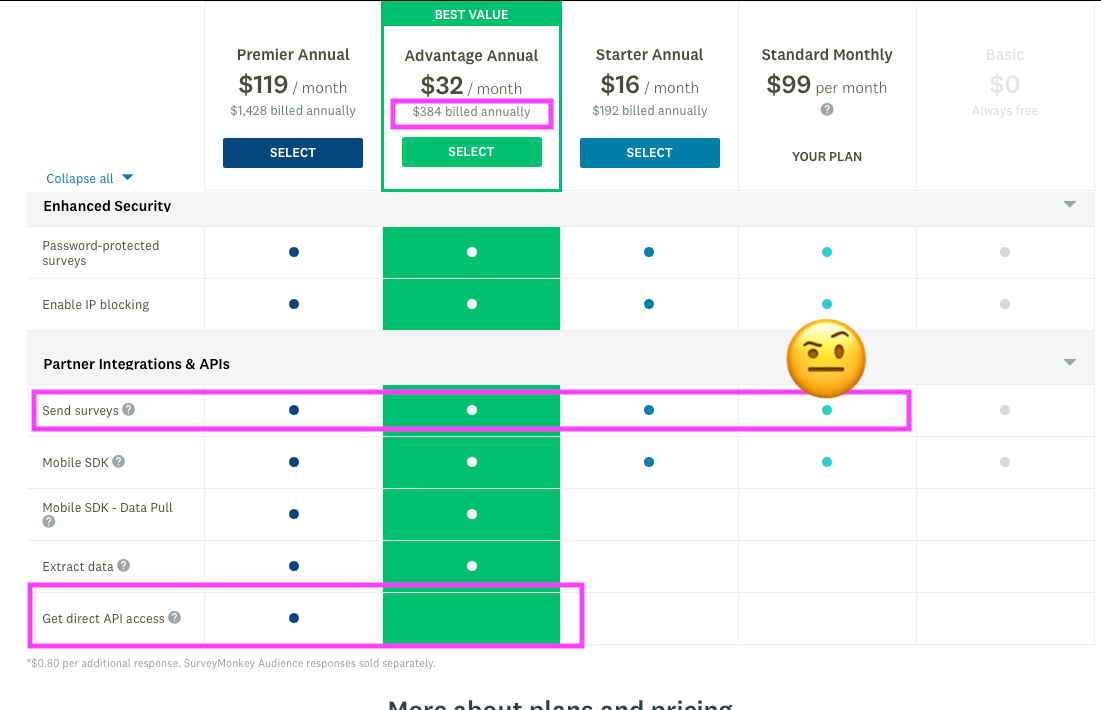 When I try using the SurveyMonkey action "Send Survey" on the Standard Monthly plan, however, I get the following error, "The user does not have the required plan to make this request."
Per the troubleshooting notes:
The "New Response Notification with Answers" trigger will require you to have any Annual paid plan with Survey Monkey. This includes the Standard Annual, Advantage and Premier plan, which are all annual subscription plans that Survey Monkey offer. This information can be found here: https://help.surveymonkey.com/articles/en_US/kb/SurveyMonkey-Partner-Integrations-Changes

The only paid plan that doesn't work with Zapier integrations is their Standard Monthly plan, which is their only monthly subscription plan.
Per the link:
"SurveyMonkey Plan Requirements: Any Plan to install/use basic functionality, but requires an Annual Plan to use an "New Response Notification With Answers" event trigger."
Will the Advantage Annual afford me this basic integration functionality, or do I need the Team Premier plan?