Hey everyone.
I work for a small managed IT company that uses ConnectWise for service tickets and time tracking but has recently starting using monday.com for actual project management activities. Since these two products don't have a direct integration yet, I've been tasked with trying to get them to share as much information as possible using Zapier.
So far, I've got one relatively simple function working, which is that when a new project ticket is created in CW, it appears in monday.com. Easy peasy. However, I'm having a hard time figuring out the trigger/action formula for some of the other things we want to do, or even if those things are possible with what these products surface to Zapier.
For example, in a perfect world, we'd love the two products to be able to share information back and forth. So for example, when someone updates a "conversation" item for a monday.com project, that will automatically be added as an internal note on the corresponding ConnectWise project ticket. And this would ideally go both ways. In an even perfecter (totally a real word) world, I'd even have project ticket statuses in CW that matched up with what we're using for the Overall Status column in monday.com and they would stay in sync as well.
I've been trying to find out a way to accomplish this and am not having much luck. The main issue is that I can't seem to find a way to have Zapier know what CW ticket is tied to what monday.com ticket. So for example, if I try to create a Zap to update a CW ticket based on an item update in monday.com, it seems to insist that I hard select an existing project. Example: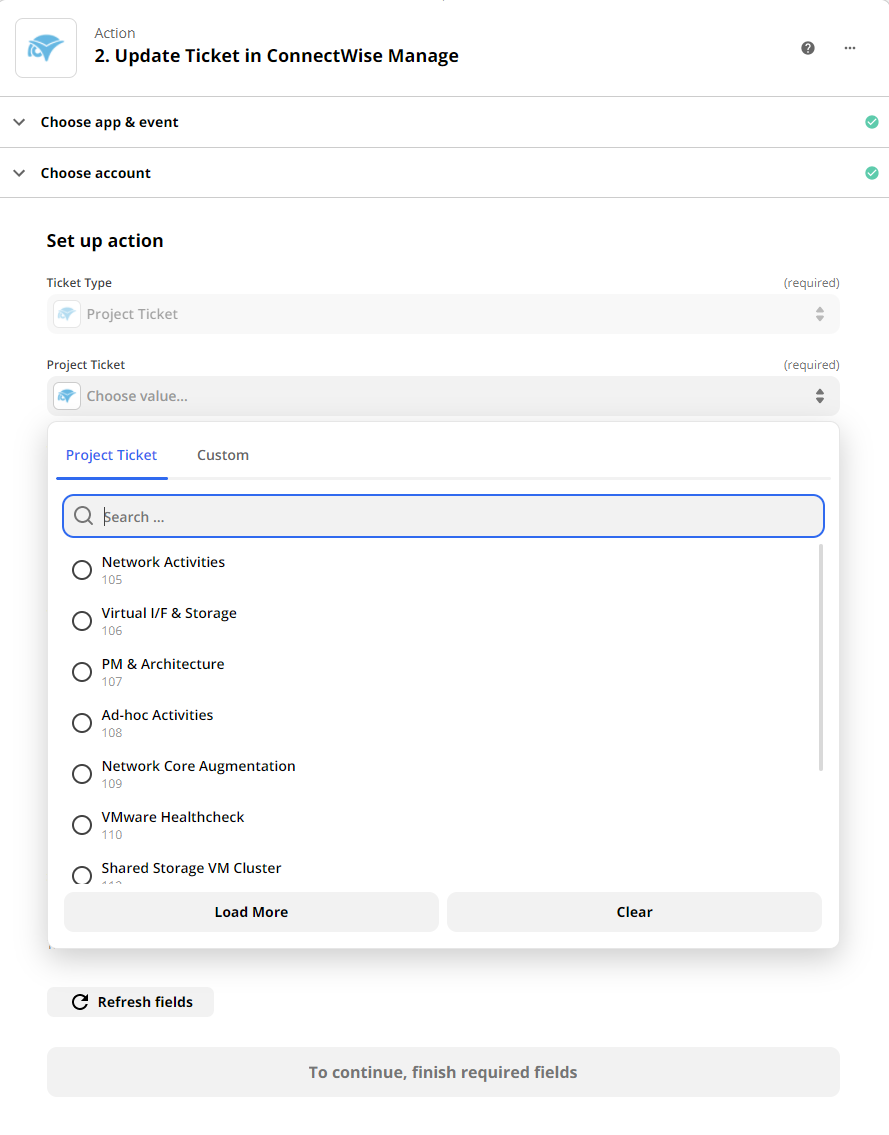 I figured if the entries on both ends shared the exact same name (which would happen with projects created in CW and then zapped over), this would be possible but I don't seem to be able to set that up. Based on my experience so far, it seems the only way to make this work is to create a separate Zap for each project that's created, which will tie it to the specific ticket in ConnectWise, rather than have it be able to tie them together. This is doable but does somewhat defeat the purpose of the kind of automation we're hoping to attain here.
I hope I've been clear enough but if not, I'm happy to clarify further. Is what I'm looking to do here even possible or am I just missing something? I appreciate any advice offered. :) Thanks!