I'm having trouble with the "to" line in the gmail automation.
I'm not sure what to add in the to field as it will be different each time a customer purchases the product. It should be going to the email address of the successful sale in paypal.
I had it working before but I must have changed something.
Best answer by steph.n 29 April 2020, 18:29
@lsap - Thanks for reaching out to Zapier Support! I saw you got a chance to speak to Chelsey and wanted to share the solution with others on the community:
 
When you're setting up a Zap in the Zap editor, by selecting the email address that pertains to the customer, from the sample data in the PayPal trigger, you'll ensure that the email is always dynamically populated based on the email field in PayPal, but the value won't always be 'injsaprice@gmail.com', it will be whatever email is passed through the 'Payer Email' field, does that make sense?

It sounds like you were on the right track, you'll just want to map the below field in the "To" field of the Gmail Step: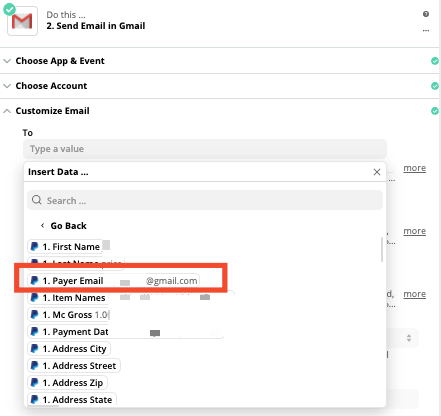 Let me know if that does the trick!
View original