I've got a fun one for ya today :) First, let's define a few things:
Alfred: Alfred is a productivity application for macOS, which boosts your efficiency with hotkeys, keywords and text expansion. (link)
Webhooks by Zapier: Webhooks simply POST data (or JSON) to a specific URL every time we see something new. Webhooks can also accept data (or JSON) to kick off a workflow in Zapier. (link)
Named Variables: Named variables allows you to format your text in a way that when the Zap runs, this text will be separated out and sent as individual fields. The key to using this function is entirely in the formatting of the original information. (link)
Airtable: In short, Airtable is a platform that makes it easy to build powerful, custom applications. (link)
---
If you're still here, then I'll assume this is relevant for you and you're up for the challenge :)
In Alfred
We've got a blog post about how to use Alfred to send data to a Zapier webhook if you want to check it out. I'm about to show you something that can help you take things up a notch.
NOTE: One thing to be careful of in Alfred is this part, where you decide what to escape. I set it up this way and it worked for my needs: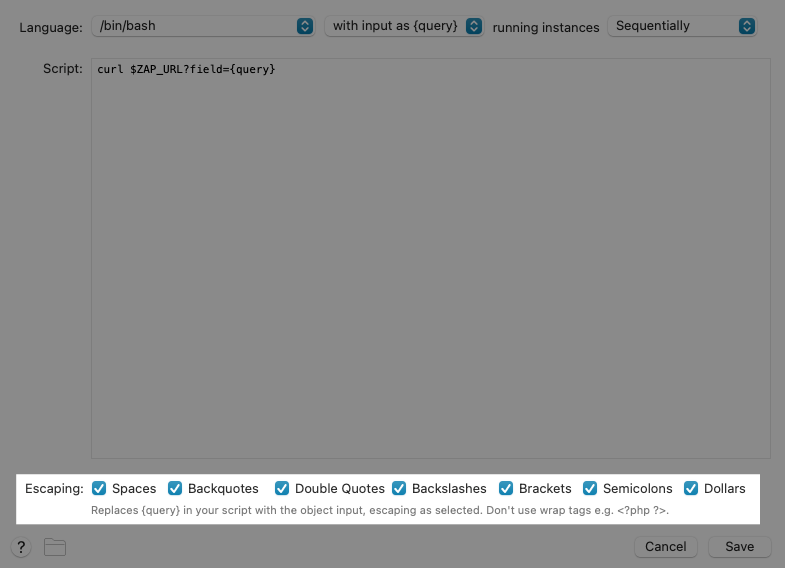 Named Variables Provide a Ton of Flexibility
At the link I posted above, about named variables, you'll learn that when Zapier sees something in this format...
something(here) 
… it will create a field called something with a value of here in it.
How does that help us? Well, take a look at this:
In Zapier
What does that look like in my Zap? Check it out: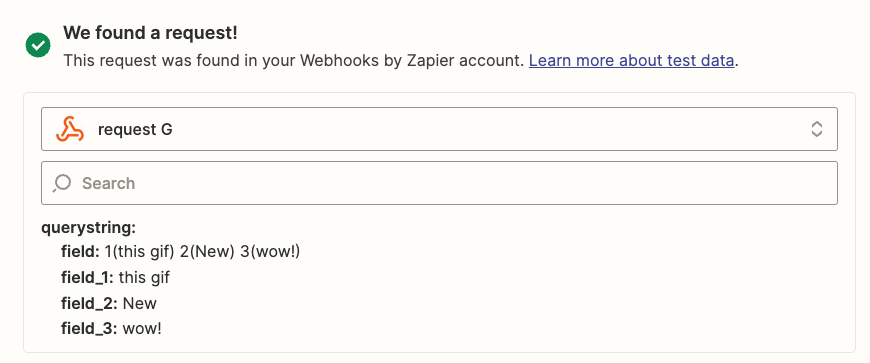 I've created 3 separate fields, that I can (you guessed it) map to different parts of my Airtable action step: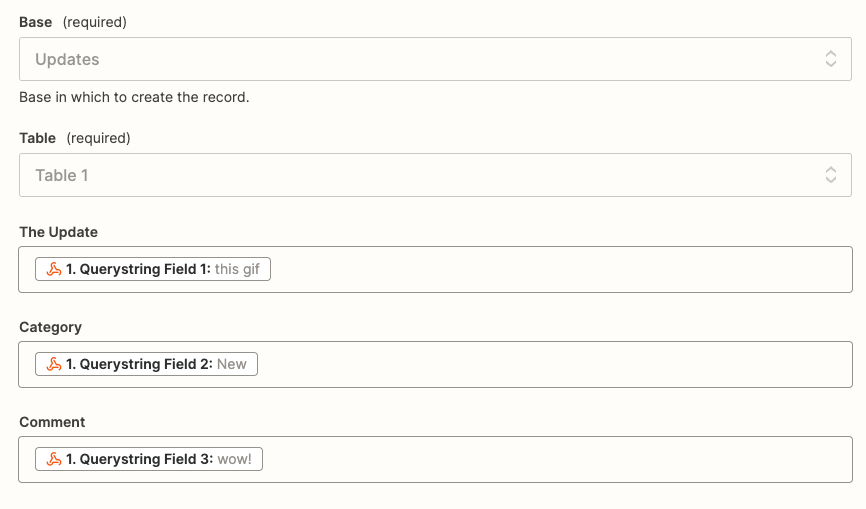 Some Things to Note
There are a few considerations that I'd like to highlight:
Your action app doesn't need to be Airtable. It just happens to be what I chose :)
In order for the mapped fields to work in your Zap, you'll have to use the same "named variable" each time. So from my example above, you couldn't use a thing instead of something and have it work. So make sure you use something memorable (and ideally short). It could be numbers, or single letters that represent the fields you know you'll map those values to in your action step(s).
You clearly wouldn't want to use this workflow for something crazy long, à la...
 
… because it's tedious, error-prone, and not the point of this workflow 😛
The reason my Zap shows field_1, field_2, etc. is because I used the word field here:
Wrapping Up
I hope you've found this helpful! If you have any interesting use cases for this type of workflow, I'd love to hear about them.