I've run into this often and have a decent work around so by posting it here hopefully this can help others. 
The issue: Zapier steps that "depend" on the output from a previous step will fail if the previous step fails or has an issue. 
This can happen for a number of reasons, like the webhook step had an error, or (and this has been happening A LOT lately) an app like Google Sheets responds with an error like 500 "Server Error time out". 
Or a search step fails and you don't want to create a record Or the application doesn't give you that option. 
I want to make my zaps smarter and to work around these issues. As you'll see below It takes a number of extra steps and paths to do this, so I only do it on critical zap steps or where failures are common. 
For example if I try to post to a Google Spreadsheet and I get a time out error I want the zap to take a delay and then make another attempt. Or if there was a failure in finding a row or a contact or whatever the search was I want the zap to take a different path. 
However, and this is where the issue happens, if I have a filter or a rule in a path set up that checks the results of that step it will NOT run because that step/filter/rule "depends" on the output of a previous step that failed, even if the "test" in the filter/rule is to see if the output exists or not.
That's right! If you check to see if the output of a step does not exist you are now "depending" on that step running. 
So my team and I came up with a beautiful little workaround/hack. And I'll explain it here. If you have questions or it's not clear please ask and I'll explain!
The solution in bullet points:
(Trigger step and previous action steps as needed)
Use Storage by Zapier to set a variable (Storage Key) to 0 

I typically use some Key name from the trigger step, in this case it's an ID field
​​ which will remain constant through the zap instance and not overlap with other instances of this zap​

 

Run the step that might fail (Google Sheets, webhooks, "find/search" etc)
Use Storage by Zapier to set the same variable (Storage Key) to an output of the previous step 

This step relies on the step to return successfully. If there is any error in the step giving us this value ("B: Values cleard 6. Text" in this case) this step would not run so the storage value would not change.

 

Use Storage by Zapier to "get value" of the Storage Key 

We cannot rely on the previous step to run sucessfully so we need an additional step that is not dependent upon that step. So this will run no matter what failed in front of it.

 

Use Paths (Rules) or a Filter here that checks the value of Storage Key. If Storage Key is 0 then #3 above failed, if Storage Key is anything other than 0 step 3 ran sucessfully. 

The filter I have here is to continue only if the step failed (and the storage value is still 0) you could use the opposite (only continue if the value is NOT 0) and you could use both in separate paths.

 
The explanation
The key is dependency, since Step 3 listed above will fail, then step 4 will not run because it depends on step 3. 
So now we have a scenario where if Step 3 fails step 4 won't run, so your zap will skip from step 2 to step 5. Step 2 is setting the Storage Key to 0 and Step 5 is retrieving that Storage Key which will still be 0. 
Special Note, I had originally speced this out to not contain step 5. However, my team pointed out that if I used the output of step 4 in my filter/rules those would not run because step 4 didn't run. So we do need to grab the output of the Storage Key in a separate step even though when step 3 and 4 run successfully the output of step 4 would contain the value of Storage Key.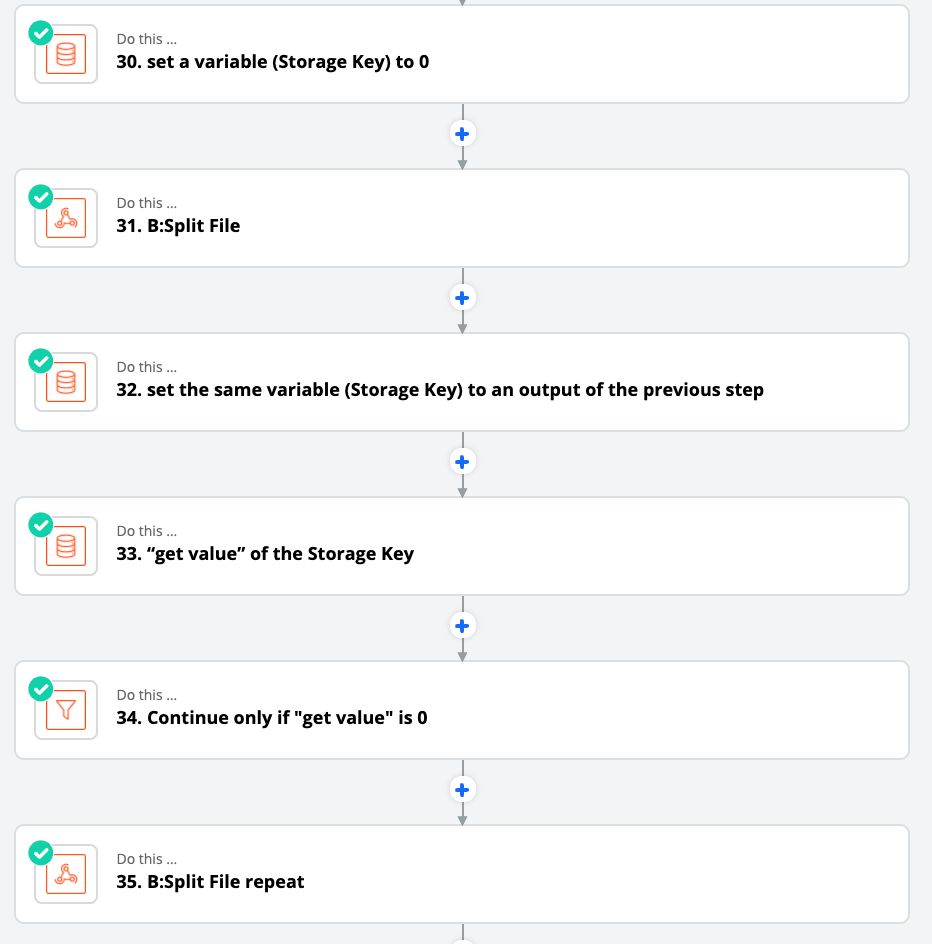 I've used this combined with a delay step to "retry" the prone to failing step, if the storage key is 0 I delay and then run the same sequence over again in the path
storage key set value to 0
run problematic step
set storage key to the output of the problematic step
get the value of storage key
use rules/filters to determine what to do next.
I've even set this up to make a total of three attempts before alerting the team that the problematic step did not run after 2 delays and a total of 3 attempts. 
Enjoy and good luck! Hopefully this inspires you to develop more workarounds!