Find yourself constantly switching tabs and copy-pasting data back and forth? Our latest improvement to the Zapier Chrome extension has a new action that can help you reduce context switching and stay in the zone.
With this new action, called Reply to Chrome, you can run a Zap from the Chrome extension and display the results—all without switching tabs.
Below are a few examples and shared Zaps to get you started.
Here's an example of a Zap that posts to Twitter then displays a link to the Tweet itself (click here to try it for yourself):
Here's an example of a Zap that runs from the Chrome extension, looks up a row in Google Sheets, then displays the results in the extension (try it for yourself).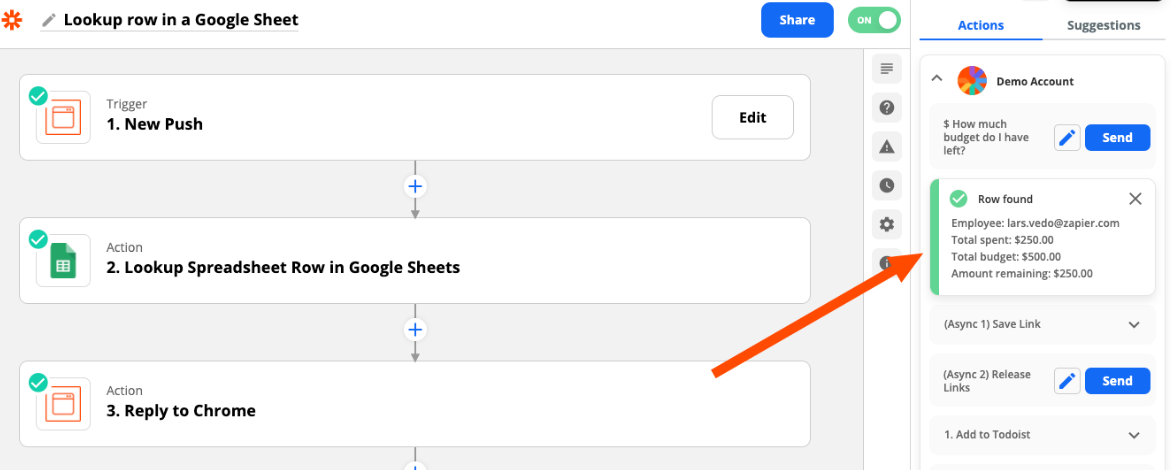 The new action, called "Reply to Chrome", will display right under the Zap in the Chrome extension. It supports basic formatting so you can include bold, italics, emoji, and even links!
Here are a few more shared Zaps for inspiration:
This is a brand new feature and we have more updates in the works so we would love to hear your feedback in the comments below. 
Thank you for all the feedback that helped us come up with this solution. We hope you find it useful!