TL;DR: The new Custom Error Notifications feature is being introduced to Pro, Team, and Company plans that allows users to customize error notifications. This will give users more control over when and what they are notified about, addressing previous issues with the volume and relevance of error notifications.
About Custom Error Notifications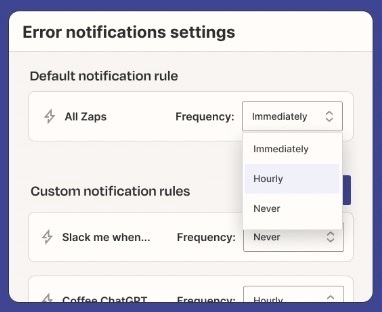 If you're on a Pro, Team, or Company account, you can now set custom error notifications for your high-priority workflows. Set up custom email rules for each Zap, deciding whether you want to be notified of errors immediately, with a summary, or not at all.
And if you're on a Team or Company account, you can set rules for Zaps that you don't own but have access to. 
Here's how to set it up:
Click on your profile and go to your Settings.

Click on the Email Notifications tab…and then Error notification settings. 

At the top, you can change the default alert frequency for all Zaps. You can choose immediate alerts…an hourly summary…or nothing at all.

If you're on a Pro plan or higher, you'll see Custom Notification Rules.

Click Create notification rule.

Select a Zap, choose your frequency from the dropdown menu, then save it!

Don't fret, you can also delete your custom rules at any time.
Personalize your error notifications for better support, and head to your error notification settings now!
Pro tip: Check out our support guide on creating custom notification rules from our Help Center for more information.
We'll keep you updated on any further developments, and as always, please don't hesitate to reach out to us with questions or feedback. Thanks for being a part of our community