I was originally going to search Twitter for a handful of example of people who were sharing automations they'd built using Zapier. I had about ten of them ready to go, but then I stumbled upon this bold tweet from @nocodedevs: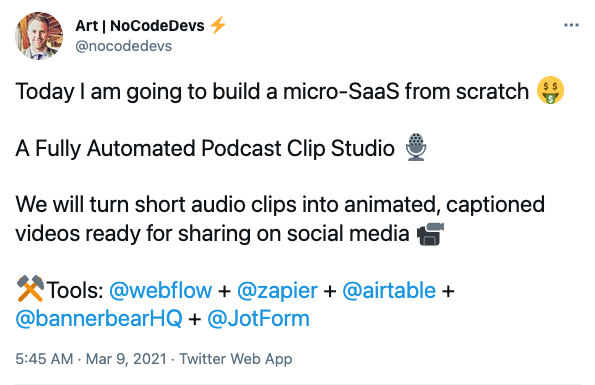 My curiosity was piqued! I'm always trying to think of such micro-SaaS ideas to build, even if just to see whether it's possible.
Enter Art West, founder of NoCodeDevs.com! In this Twitter thread he outlines the exact steps he took to build his micro-SaaS, Podscribe. 
In addition to Zapier, Art used Webflow, Airtable, and Bannerbear. For convenience, you can check this out on a single page on Threader but I highly encourage you to head over to Art's Twitter thread and show him some love for sharing the process he used (with step-by-step instructions, might I add).
Podscribe is a shining example of what you can accomplish with no-code tools, like Zapier, and a bit of creativity!
I wonder if we should start writing articles here in the Zapier Community about how to build micro-SaaS products, to demonstrate not only the power of tools like Zapier but the ease with which just about anyone can create fully-functional apps without needing coding knowledge.
NOTE: This is not an endorsement of Podscribe or NoCodeDevs. I simply found this Twitter thread and was impressed by the idea, the follow-through and the detail with which Art described his process. I thought it deserved a shout-out :)