UPDATE
On September 8, 2021, the Gmail Add On for Zapier will no longer be available in the Google Workspace Marketplace. 
As an alternative, please check out the Zapier Chrome Extension. It doesn't totally mirror the functionality, but the Extension will allow you to quickly and easily send data to your Zaps without leaving Gmail in the browser.
You can use the Chrome extension to save and share emails, or use this handy Zap to send the body of your email to other apps like Slack, Trello, or Todoist. 
Learn more about the powerful features of the Chrome Extension here: https://go.zapier.com/install-chrome-extension.
For any questions, please reach out to Zapier support using our contact form.
---
Hey folks! My name is Ryan—I'm one of the product managers at Zapier. We've been building new ways that you can interact with Zapier in your other apps, and today we're excited to announce that we officially launched our new add-on for Gmail.
We know it's a pain to copy data between Gmail and your other apps, so we created this add-on to help you automate that email overload without ever leaving your inbox. 
The add-on makes all that a one-click process. Just select an email, choose an action from the Gmail sidebar, and Zapier will route your message to another app with one click.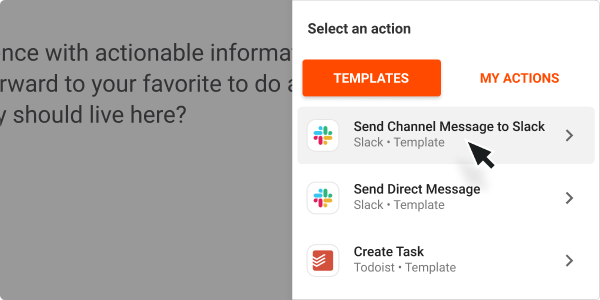 Right now, you can use the following actions:
Send messages to Slack

Create tasks in Todoist, Asana, and Omnifocus

Add rows to Google Sheets

Create notes in Evernote

Add cards to Trello
You can learn more about the add-on in this blog post we published. Or, if you're ready to give it a try, you can install it on the G Suite marketplace. 
Let us know what you think! Did you find it particularly useful? Share your story and let us know what actions you'd like to see us add next.