Hi, at work we use Clickup as a project management tool where a task is defined as a project.
Had to do it that way to be able to use custom fields and be able to view all tasks/project in a specific way all together.
But, we need to be able to report on some of these fields to other departments in a easy way, and the export functionality in Clickup itself is very limited. So I have set up a Google Sheet for this and I've tested Zapier for and it works as intended as it is generating a new row in the sheet when we are adding a new task/project in Clickup.
However I am struggling big time with showing the custom fields as separate columns/cells in the Google Sheet. In a typical project we have 6-7 custom fields with for instance dropdowns to define the project type, various dates (including due date, but that one isn't a problem) and a field for commentaries.
All of these fields are gathered together to the Google Sheet as two cells; one for the defined data of that custom field, for instance "Project type,installation date, date x,date, y,commentaries", and the second field for the input we've used in Clickup, for instance "Project type x,26.feb,27,feb,28,feb,this is a test comment"
Is there any way of displaying these custom fields as separate cells in the Google Sheet (I really only need our input), or do i have to build the Clickup in a new way, with not being able to use Custom Fields?
Examples: (not everything in English, but that doesn't matter) the fields in the red circle are all custom fields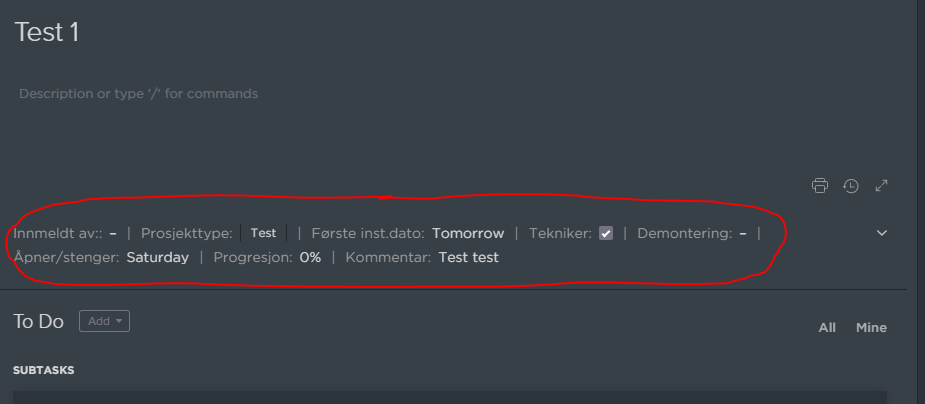 These fields are displayed like this: (I have the option to separate them in two cells, but that doesn't solve the problem really)

Best answer by AndrewJDavison_Luhhu 26 February 2020, 11:41
View original