Folks, we're all working from home now. I live on Zoom, and love Pipedrive. But I can't get a Zap set up to offer me the option of a Zoom call whenever I set up a call in Pipedrive. Went through the sequence on Zapier setup, but it doesn't happen! Help an old luddite stuck in his home office. 
Best answer by Danvers 30 March 2020, 17:22
Hi @MarcS Hmm, it looks like you haven't quite understood how the Zoom step works, so I'll start at the beginning. 
The Zoom Create Meeting action will create a meeting in your Zoom account, but it wont automatically add it to the Activity in Pipedrive. The details that you add in the Zoom Create Meeting step are the details that Zoom will use to create the meeting. If you look in your Zoom account, you'll be able to see the meeting there. What you need to do is to add the details of the Zoom meeting to your Meeting in Pipedrive, which you can do in the Zap, we just need some more steps!
First of all, I think we need to change the trigger for the Zap. In Pipedrive, lots of things are counted as 'Activities', including closing deals, deals moving stages, etc. It sounds like you only want it to fire when the Activity in Pipedrive is a meeting, is that right? If that's the case then you'll want to use the trigger Activity Matching Filter. You'll first need to create the Filter in Pipedrive, you'll need the filter set so that only the type of Activity that you want will be added to the filter (eg Activity type = meeting) Here's a guide from Pipedrive on how to set up filters
Then you set the trigger of the Zap to Activity Matching Filter and choose the new filter that you added in the trigger options. The whole Zap will look like this:
Pipedrive - New Activity matching filter
Zoom - Create meeting
Pipedrive - Update Activity (add the Zoom details to the meeting)
In the Update Activity step, you'll be asked which Activity you want to update. For that you'll need to use a Custom value, that let's you choose information from the previous step to tell the Zap which Activity to update. Select the Custom option and then choose the Activity ID, not the name of the activity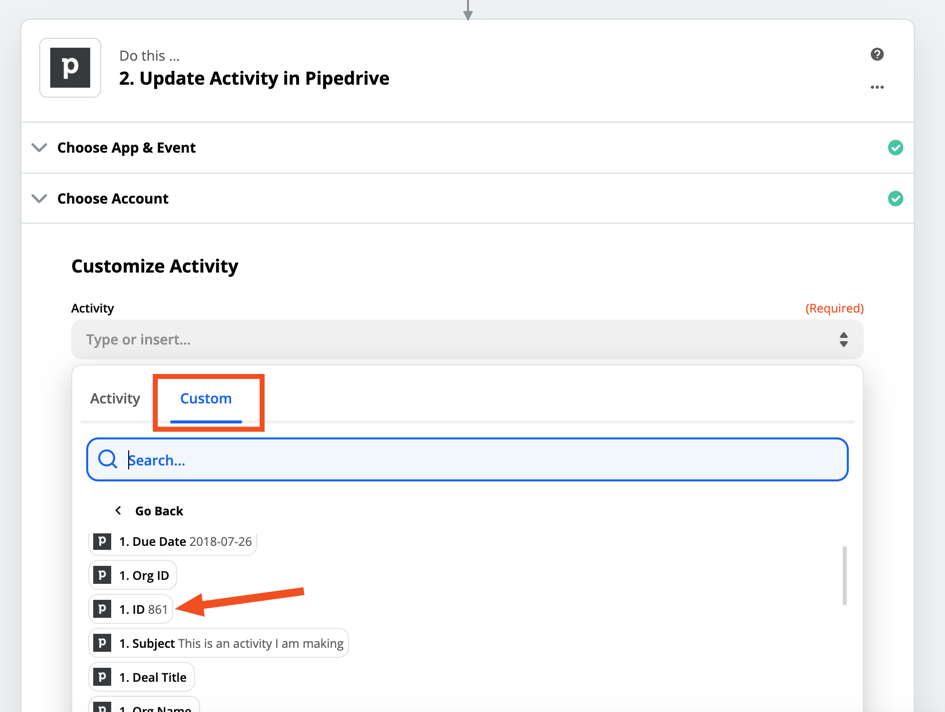 I hope that all makes sense! ​Let me know if you have any questions!
View original