What are the "Contact Action"s?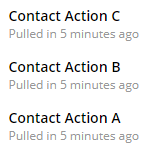 Best answer by andywingrave 26 August 2020, 21:51
Hello! It will just be an action that you've added (task, note or appointment) - If you click on one of those actions it will give you the details. 
Here's a nice resource that can help you understand the basics of Zapier, if it's any use: 
https://zapier.com/learn/getting-started-guide/what-is-zapier/
But please feel free to post again with any other questions.
View original