Hi, I'm trying to set up a Zap to take Eventbrite registrations into a Zoom webinar registration. I have several fields in the Zoom registration that are required, which are also in the Eventbrite registration, but I can't figure out how to map them to the Zap. It looks like it is limited to just the basics. But when I test the zap, I get an error message. Here's a screenshot of my Zap editor, and a screenshot of the error. How to I add more fields?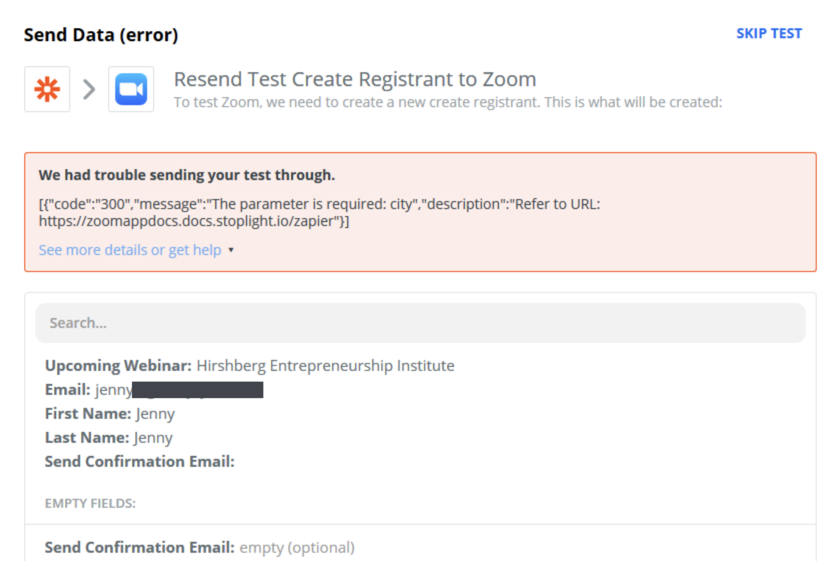 [EDIT - images edited by a moderator to remove private information]
Best answer by nicksimard 7 April 2020, 23:51
Hi Carlene,
Happy to see that you've reached out to our Support team and they've helped you out with this. Sounds like you're good to go for now.
For anyone else who comes across this thread, here's what our Support team had sent:
This trouble is a known current limitation of the Zoom integration.

The current fields that are available in the Zoom Create Registrant action are the only ones that the integration can work with at this time. If the Webinar requires any other fields than the basic fields listed in the action, we will hit an error when trying to create a registrant.

We do have a bug report filed for this issue with Zoom. I've gone ahead and added you to the notification list so that we can be sure to alert you ASAP once the issue is resolved.

In the meantime, the create registrant action will be limited to only the basic fields listed. Additional fields won't be allowed when working with a zap until the trouble with the additional fields is resolved.
View original