Hello,
I am coming from the Salesforce side as I am the sys admin - it seems that Leads coming from Linkedin, Facebook and other sources via Zapier come through to Salesforce but with a lot of information missing. After much communication with Zapier support, we seem to have it narrowed down to the fact that I have duplicate rules in Salesforce and some were set to Alert and Report as opposed to just Report. When I deactivated the Alert, it seems it fixes it. However, I want the Alert as when a user tries to manually create a Lead in Salesforce, I want them to get a warning.
Has anyone out there come across this?
I am thinking of doing some exceptions to my Dupe rules such as - If CreatedbyID = user X, then alert. Not sure it will resolve it so wondering if anyone has any other suggestions.
Thanks,
Clio
Best answer by AndrewJDavison_Luhhu 2 October 2019, 09:42
Hi @Clio_Pridatect - welcome to the community. Let's try and get this working for you.
So, I'm not sure you can use Zapier to send alerts within Salesforce, but would it be OK for your users to get email alerts instead?
If so, you can use a 'Formatter -> Utilities -> Lookup Table' step to match 'CreadtbyID' to a user's email address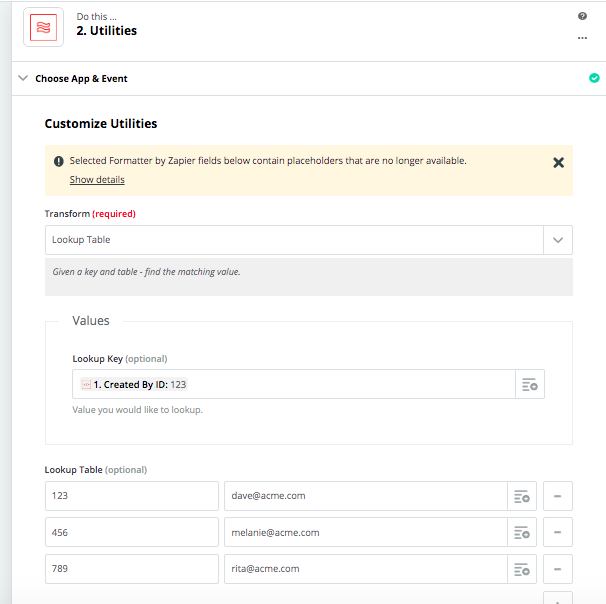 Don't want a certain user to get alerts? Don't include them in the Lookup Table.
When a Lookup Table fails to find a match, it returns a blank value (unless you specify otherwise).
Your next step would be a Filter step that only passes if the Lookup Table returned a value: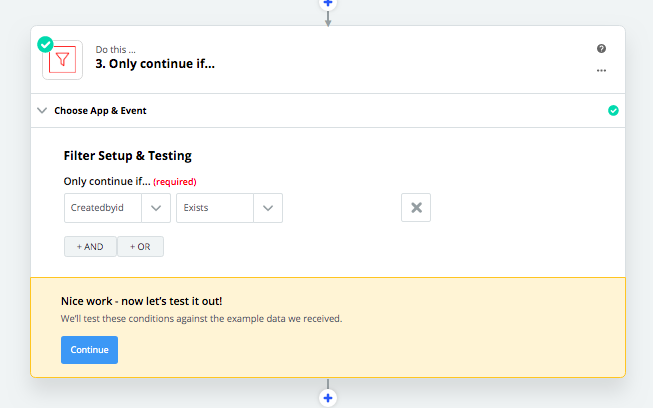 Assuming it does, you can then send them an email using Gmail/Outlook or even Zapier's built-in Email step (however that will come from a generic @zapier.com email address).
Hopefully this works for you - if you've got any questions let us know.
View original