Hello!
I use Todoist almost every day, and in the mornings I transfer all the tasks manually to Google Sheet to analyze the possibility of their accomplishment from the perspective of time, place, risk and its mitigation.
What I want Zapier to do is to:
Create a new sheet in specific workbook (done now).
Move all the overdue and today tasks into the rows of the first column starting from the second one: one for one row.
My search through the available functionality wasn't successful. If you have any ideas, this would be great to find them out!
Best answer by terbiy 25 October 2019, 09:45
I think now I can sum up the current state, which I can call a solution or a significant improvement at least.
My system looks the following way now.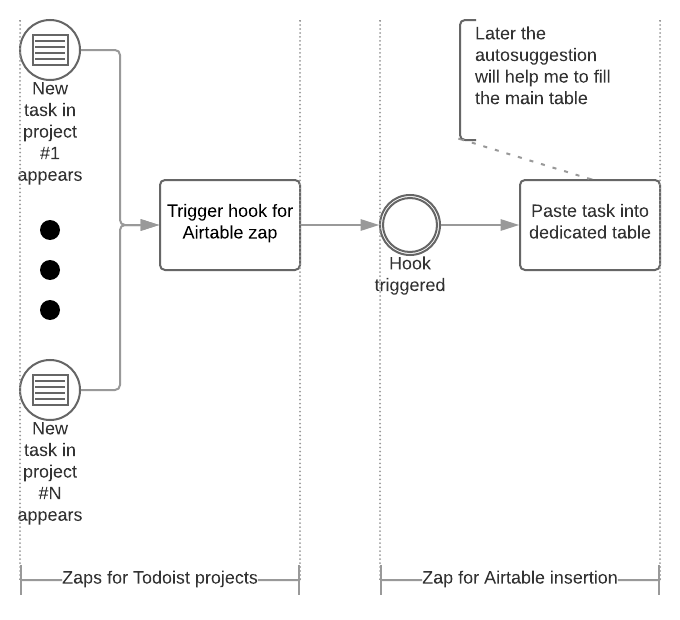 Once I create a task in a project set for watching in Zapier, the webhook gets triggered. (Thank you @PaulKortman for the proposal to separate these means).
Another zap settled to listen to this webhook then pastes the name of the item to a dedicated table in Airtable database (thank you @TheDavidJohnson for the proposal to use this wonderful instrument).
Now when in the morning, I need to do my usual planning where I fill the table with task, time, place, risk and risk mitigation I use the autocomplete most of the time.
Many thanks for @AndrewJDavison_Luhhu, @Danvers and @jesse for your support and ideas!
View original