My goal: Zap data from Monday.com to a Google Sheet when a new entry is added to a specific board on Monday.
My problem: Although I have identical columns in Google Sheet as I do on the Monday board (and data seems to be flowing between them), the columnular data from Monday seems to be arriving as a key:value pair (almost like JSON). Is there any way to extract this into separate fields for the Sheet? In the screenshot (which I've tried to remove any identifiable info from), you can see that the Name field maps well, but as soon as we get to the next Sheet field ("Google Ads ID"), I basically get all of the rest of the data as one field called "Column Values". Is this just an issue with Monday.com's API or is there something I can do to further extract that data?
Thanks in advance!
Best answer by AndrewJDavison_Luhhu 27 January 2020, 16:56
Hi @redearmedia
I had to find out the hard way that you need to create a webhook step to call the Monday.com API to get data from an individual column:
The Intuitive Management Tool - Developers
It will end up looking like this: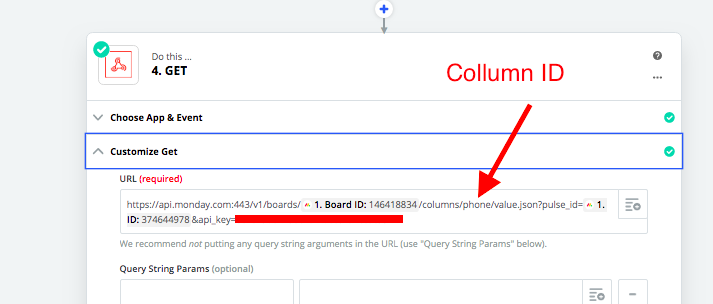 (remember to get your API key from Monday.com settings).
Also, you need to use the collumn's internal ID, not it's name in Monday.com. If you need help finding that, open this link in your browser:
https://api.monday.com/v1/boards/[boardidhere]/columns.json?api_key=[apikeyhere]
(replace [boardidhere] and [apikeyhere] accordingly)
You'll see this:

In this example, the column in Monday called "Reference Number" has a column ID of "text13"
Hope that helps!
View original