About
The Zapier Community is a space to connect with others and create, learn and share ideas and solutions. You'll also find opportunities to connect with Zapier staff members and learn about new features and upcoming plans.
Things to do first:
Review our Community Guidelines. Following these guidelines helps to keep our community relevant and engaging for everyone. We also recommend reading our Terms of Use, which goes into more detail about behavior and rights related to content, privacy, and laws.
Introduce yourself: If you haven't already, go to your Profile Page to update your avatar and fill in your profile information. It should take you less than a minute. By default, you will receive notifications for any thread you are a part of but you can customize the types and frequencies of notifications, here.
Find your community, find your people: Browse topics by tag to find people similar to you and gain inspiration from the Zaps, apps, and workflows they are utilizing.
Explore the Leaderboard: We love to recognize positive community engagement! Work your way up the ranks and earn badges by responding to others and providing quality answers.
Take a Quick Tour
Finding Topics:
When you first enter the community, if you know what you're looking for, you can use the search bar at the top of the page. This will search across all articles, topics, comments, and categories so you can easily find what you need.

Guidelines and Intentions for Using the Forum:
There is a lot of information in our Community and as we continue to grow, we thought it would be helpful to provide guidance on what is offered and what information you can find (and share) where!
About the Community:
We welcome you to start here! Check out our Community Guidelines, meet our team, take a tour and introduce yourself!
Ask For Help
General Questions
Do you have a question surrounding your workflow or use case? Connect with other users and professionals to make sure you create the perfect combination of Zaps to achieve your goal. 
Code & Webhooks
Whether you're an advanced user or trying to become one, if you've got questions about our Code and/or Webhooks apps, this is the place to do so.
Hire a Pro
Looking to hire a consultant or agency to help build out your workflow? This is where you want to be! You'll also find our extensively trained Zapier Experts here who can help collaborate or take on your project!
Learn and Share
Featured Articles
Looking to dig into workflows, app tips, automation inspiration and more? Check out these articles written by Zapier staff and (coming soon) Zapier Experts.
Tips and Inspiration
Ever wondered how others are using Zapier to automate their tedious work? Find tips, tricks and real examples and use cases from your industry, role, etc.
See What's New
Zapier Announcements
Find the newest product updates, upcoming features and ways to stay connected and engaged with our team.
For Developers
Developer Discussion
Are you looking to chat about building an integration on our developer platform? This is the place for you!
Lastly you'll find tabs for "Help Others" and "Recent Discussions" on the homepage. The best way to level up on the leaderboard is to respond and engage in these areas while helping other users at the same time!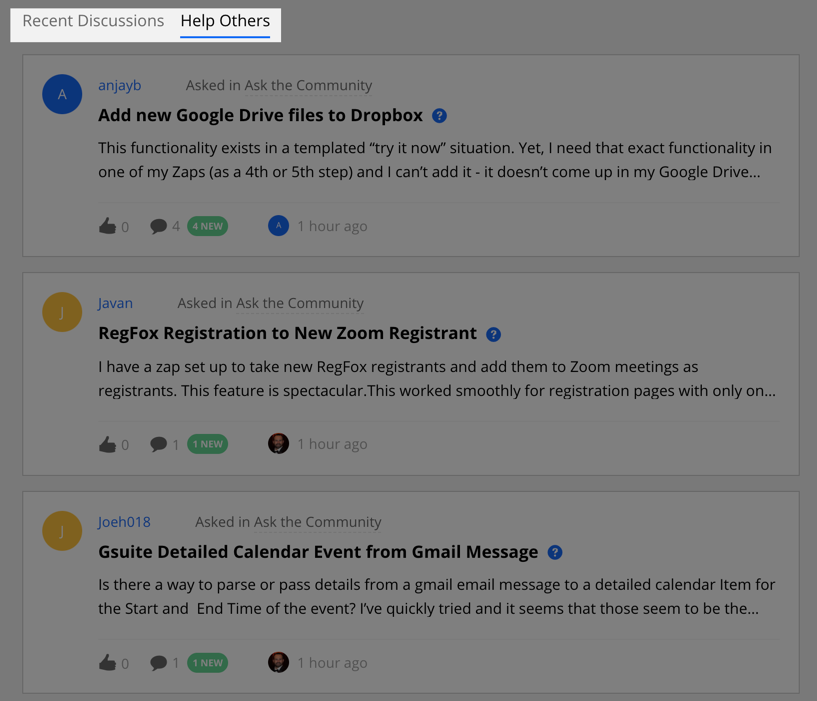 Asking Questions and Starting Discussions
If you're not able to find a topic similar to your question you can use this button at the top of the page to ask a question or start a conversation:

It's best to ask a question when there is a single answer you're looking for and to start a discussion when you're looking to source ideas and have a conversation around a topic.
From there, you can title your topic, type your message, and add images.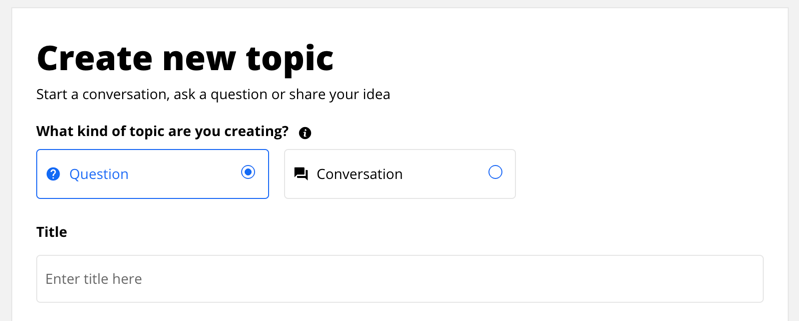 TIP:
Please try to make your title as descriptive as possible, without being too long. What would YOU search for if you were trying to find a solution to the problem?
Examples
Instead of error — help! try something like Error when I test my HubSpot action step
Instead of I can't connect!!! try something like I can't connect my Salesforce account — error about insufficient privileges
Instead of Is it possible? try something like Can I update Google Sheets rows when Mailchimp subscribers are updated?
After creating your topic, you can add tags. It's best to add tags for the apps that your question is involving so other members can easily find questions and discussions related to the apps their using as well.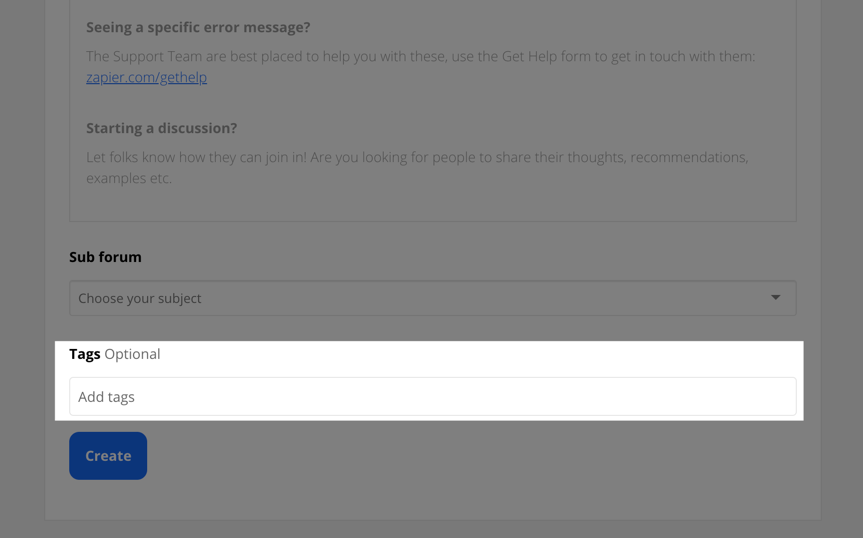 Dive into comments and conversations
When you click into a topic, you can review all of its associated comments. Within the thread of a topic, you can do the following:
Upvote a comment to help other users find the most useful solutions
Mark a comment as the answer if it helped you solve a problem
Flag a comment if you feel as though it's in violation of our community guidelines or terms of service

Editing your profile
If you'd like to change details in your profile, such as your avatar, about section or location you can do that in the 'Edit Profile' section. You can access your profile by clicking on your user avatar at the top-right of the page and selecting 'My Profile'
It's not possible to change your email address because the community always uses the email address on your Zapier account. If you need to change the email address on your Zapier account you can do that by logging into your Zapier account and going to your settings: https://zapier.com/app/settings/manage-email
Need A Hand?
If you have any questions about how to use this community, feel free to explore other topics in this Guide section and leave a comments for us there. If you find a bug with the Community platform itself, you can bring that to our attention by emailing community@zapier.com. Please do not email Zapier questions to this email address.
Thanks for reading — we're excited to have you here!